Is your wallet bursting at the seam from all the plastic credit card type loyalty cards? Carrying plastic credit card type loyalty cards is so 2017. We decided to compile a list of the South African companies that have a digital loyalty card or loyalty app. Now you can swipe the digital card instead of a real plastic one.
Clicks Clubcard
Get your Clicks Clubcard on your phone – according to the Clicks Mobile App website, you'll have "one less plastic card in your wallet" which is exactly the point of this exercise!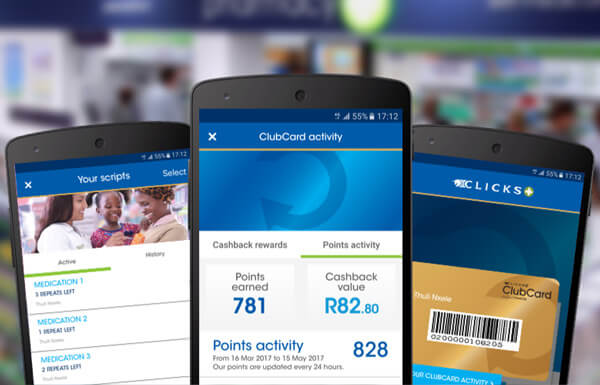 Other features of the app include:
Scan your card in store. Earns points. Spend cashback.
Check your cashback balance and points activity.
Submit scripts on the go and pick up later
See your script history and order repeats
Find your nearest Clicks store, pharmacy or clinic
Pick 'n Pay
Ditch that plastic Smart Shopper Card for a digital version. The Pick 'n Pay Mobile App has the following to offer:
Other app features:
Access to personal discounts
Redeem your Smart Shopper points
Buy airtime and data
Buy electricity
Create shopping lists simply by scanning the barcode
Dischem
The Dischem app boasts a "virtual Loyalty Programme Card." Furthermore, the also state:  "We've digitized your Loyalty Programme card for you so that you always have it when you need it." Neat!
Other features of the app include:
Order yours scripts
Set medical reminders to take your medication
Create shopping lists
Schedule appointments with the hair, beauty or clinic services
Repeat prescriptions – request your repeat prescription and collect at your nearest Dis-Chem once ready
Spar
Spar also has a rewards programme, although not as slick as some of the other abovementioned brands. There is also an app available with an integrated rewards section.
Other features of the app include:
Browse SPAR Rewards and receive instant notifications when new SPAR Rewards become available to you.
Track how much you've saved from the SPAR Rewards you have redeemed.
Shopping lists: Create and share shopping lists with friends and family.
Store locator: Use the app to find your nearest SPAR store.
Competitions: View and enter SPAR competitions.


Woolworths
WRewards is Woolworths' loyalty programme where members can save from 10% on selected goods.
Other features of the app:
Scan a product in-store to see the ingredients
Receive push notifications about exclusive offers and promotions.
Store locator
Check the balance and available funds on your Woolies account (if applicable).
Apply for store card, credit card, a loan or a credit limit increase
Get personalised WRewards vouchers in the app
Online shopping and shopping lists
Stocard app
Recently found out about this really hand app via Facebook ads. It stores all of your store cards digitally in one app. It goes by the name of StoCard.
Which other store loyalty cards should we feature? Please let us know in the comments below.